December 1977 Newsletter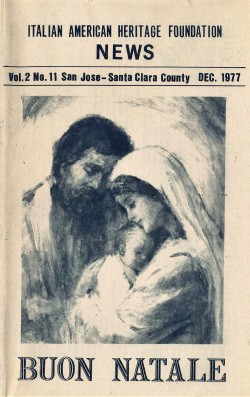 Description
A Message from the President, Murphy Sabatino, IAHF President
Bible Quote, "Matthew 2:1-12"
A Christmas Greeting To Our Readers, Mary Jeanne Anzalone Sauerwein, Editor, Ursula Anzalone, Associate Editor
Brief Ceremony at San Jose Public Library
Did You Know?
Sardegna (Sardinia)
Dinner Meeting
Letters to the Editor, Maria Gloria Rando, Senator Jerry Smith, Lucia Chiavola Birnbaum, Ken Borelli, Joanne Anzalone, Marcos Gutierrez, Host-Producer, Solesvida, KPIX-TV, Rod Diridon, Supervisor Fourth District, Jeno F. Paulucci
Sons of Italy
They, Too Made Our Country Great!: Fiorello Henry La Guardia (1882-1947) Biographical date researched and written by Adolph Caso
Miss Universe Contest
Exploring Sardinia
Maria Di Fonti
Tapestry in Talent
How to Make Yourself Big Shot Success, Robert Podesta's $1,000,000 No Joke Italian's Success System
San Jose History
Italian Americans in Jazz (1917-1977) (Condensed from Identity Magazine May 1977)
Dinner of Thanksgiving
Sen. Roberti Invites Youths To Apply For Posts in Advisory Commission
People in the News
Introducing Gino Simi, Terry Jones
Medal of Honor, Ellen Jo Boyd
Looking Into The World Of Sports, Linda Abronzino
Rocky, Joseph J. La Barbera
Welcome Back Joe!
Origlia Retires
Italian Immigrant Women in North America Reprinted from American Italian Historical Association Newsletter Western Regional Chapter (November 1977)
From the Jeanniebug Kitchen: Christmas Holiday Edition, Jeannie Bertucelli, Food Editor
Italian American Heritage Foundation News
Benvenuti Nuovi Membri!